Qualified Ride Judge and Show Rider, Julie Donaghy Simpson, talks Thoroughbreds and Ringcraft
Always having always being involved in horses, Julie's father is a breeder, show horse producer and bloodstock agent so she's know nothing but horses since birth. Her first horse coming off ponies was an ex-racer but to Julie he was just a horse.  
"I've always loved the power and the brain of the TB" says the Banbridge producer.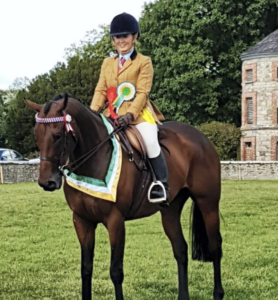 Tell us about your involvement?
I have my own private yard at my house near Banbridge in County Down. I retrain ex -acehorses for various disciplines including, showing, eventing, leisure horses/happy hackers etc. I retrain them for myself and for clients. Often people buy them off the track and send them to me to learn their new job. Personally, I really enjoy showing them and I've been very fortunate in the show ring over the years to win various titles and accolades with some of my own horses. 
I'm also very fortunate to work with some racehorse trainers and owners locally. I often take on horses for strength and conditioning work, these are horses that are staying within the racing industry. A lot of trainers see the benefits of basic good flatwork which I believe is the foundation of all successful equines, no matter the discipline. 
"Ronan McNally is a very successful local trainer who I work with and has great vision and invests in all elements of his horses' health and care. He recognises the benefits of good flatwork also and so sends me some of his animals to make sure they are strong enough to withstand the demands of the track. ".
It's fantastic to work alongside knowledgeable trainers like Ronan and I'm grateful for the trust that he puts in me to train his animals in this way. Liam Cosgrave is a local owner that sees the benefits of good strength and conditioning and also trusts me with his horses. I actually bought Ballela to Milan from Liam last year.  I originally had him at my yard whilst he was a young horse in training and fell in love with him then.
What led you into showing?
Growing up at home it was difficult to avoid showing! My father is a well-known young horse producer for the show ring having won four Laidlaw Cups at the RDS for the Supreme Champion young horse of the show in Dublin so I just grew up learning about the production of top class young show horses for the ring. This education stood by me but I was never really interested in the in hand showing, I was always much happier riding. This led me into producing my own horses for the show ring and the workers tracks where I'm fortunate to have shared some great success myself.
Tell us about your ex-racehorse experiences
The most prolific horse to date that I retrained and showed was a horse called Shawstown. He was a 'racing reject' and was very hot and sharp when he arrived with me. He arrived with me Christmas 2018 having spent a year in a field and I began his retraining in the January. He came from a local trainer called Sarah Dawson. Brad, as he is affectionately known, was well broken by Sarah which made my job a bit easier but he took a long time to learn his new trade. By August 2018 he was the ITM All Ireland Retraining Champion. He also went on to win the Down Royal Corporation of Breeders All Ireland league in 2019 and took Champion ex racehorse at the Northern Ireland Festival at Cavan that same year. 
My most recent success is a big chestnut called Ballela to Milan (Brucey). Brucey is about 17.3 and a gentle giant. On paper he should have been a very successful racehorse but he had other ideas! He is by Dylan Thomas out of a Milan mare. I bought him just over a year ago and went All Ireland Reserve Supreme Champion in August 2021. He is a fantastic big scopey horse with a noble head. He has since been bought by Zara McAvoy but still lives with me at my yard Lios Na Grai. He recently won the Treo Eile and Baileys Horse feeds sponsored Flexi Eventing League at the Meadows Equestrian Centre in Lurgan with Michael McGaffin on board. The plan for Bruce is to go eventing and showing this season. 
I have had other numerous ex racers that I have shared success with in the show ring and in working hunter. Hopefully I will have many more successes in the future. I am currently on the lookout for my next future star so if anyone knows of any suitable for the show ring then please let me know!
How does a thoroughbred differ to other breeds?
I love the thoroughbred horse and I have a passion for retraining them. I have five Thoroughbreds in my yard at the minute, none belonging to me unfortunately but they are all very different and are managed and trained to suit their individual needs. The idea that 'one size fits all' doesn't work with horses, in particular thoroughbreds. They are very intelligent animals and are so willing to please. Very often when they come off the track they might have various issues or injuries so these need to be cared for and treated. Mentally they have to adjust to a new career so time is key for them. 
What tips would you give a newcomer thinking of retraining?
I invest a lot of time into my young horses and this is exactly how I treat the ex-racers that come to me. You can never give them enough time. The very first point that I would make is to ensure that you obtain the help of a good retrainer if you aren't experienced at retraining yourself. It is vital that your horse has the help of an experienced and knowledgeable hand. 
"Go back to basics; begin with long reining and ground work before you ever consider riding. New muscles need to be developed and an entirely new way of moving and riding must be established. Be patient and don't expect too much too soon. "
Ensure that you feed low starch and low sugar feeds so you can gain/maintain weight on the animal and you will still be able to work them. I swear by the Baileys Ease and Excel number 21. 
Lots of turn out is required and hack out before you school if the horse is fresh. 
From a judge's perspective, what do you look for in the show ring?
I look for the horse that shouts out "look at me" when they enter the ring – they must have lots of presence. The purpose of the racehorse to riding horse class is that horses have been retrained for a new job, so therefore must be well schooled with good transitions and have good paces. 
I expect them to ride correctly in an outline and not ride on the forehand. They should be mannerly, particularly in the line up and as a ride judge I expect them to listen to the aids and not be too heavy in the hand.
I like a horse with good conformation and nice movement. Scars and blemishes are not taken into account under the RH2RH Ireland rules as these are to be expected with horses coming off the track. I often show my ex racers in riding horse classes and ridden hunter classes. Therefore, I have to have them riding as well as the other ridden horses in their class. 
My advice to anyone wishing to begin showing their ex racehorse is to spend a lot of time schooling and getting the flatwork perfected. You can change it up and practice on the road or in the fields, it doesn't always have to be in an arena. Shawstown was produced on the road and in the fields as he hated arenas so I had no choice! Work with them at all times and keep them happy.
The Treo Eile Show Series runs across 8 shows with a final at the National Horse & Pony Championships in Killossery.  See our News for more details.